How to Get Finance from Business Angels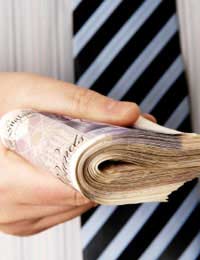 Gaining the capital you need to start or expand a business can be challenging. When you have exhausted traditional methods of funding from bank loans to family investment, business angels could be a source of the funding you need.
In essence, a business angel is an entrepreneur that has money to invest in a new business with the view to making substantial returns. Normally, business angels will only invest in businesses that have the potential to make high levels of return, often over a very short space of time. New companies based on a new pieces of technology of invention are common investment platforms for business angels.
Also, business angels have vast experience in business themselves. As well as bringing money to your business, they can also help with a myriad of other skills to ensure your business - and of course their investment - will make a good healthy profit. It is unlikely to receive a positive reaction to simply ask a business angle for just a financial investment as most will want to take a more active role in your business.
Chris Barlow, CEO, Actinic says, "Business angel financing is appropriate when your business needs capital, and you can't provide it either personally or via a bank or other loan. Some?businesses that require finance for goods which would have some tangible value in a liquidation will find it easier to raise loan finance. Ones that want it for intangibles, such as software development or sales and marketing, may find loan finance impossible. In these cases a business angel is a good option."
Business angels are interested in many types of business sector. It is true that the business angel market is often dominated by hi-tech companies, but this doesn't exclude other businesses from pursusing this kind of finance as well. Ultimately, the business angel is looking for companies that have the potential for rapid growth, coupled with an expanding market, and high profitability that is managed by a solid team of professionals. You can get more insight into how business angels operate and locate one for your enterprise on the BBAA (British Business Angels Association) website.
Entering The Dragons Den
Not all business angels are like those popularised by the TV series. Most business angels are business people with vast experience and the financial resources to invest in new enterprises. Often, a business will shun away from using business angles for fear of loosing control of their businesses. A business angel may want to be proactive to protect their investment, but they are looking for a management team within the business that can avoid them having to micromanage the business themselves.
Your Business Angel Checklist
To give your business the best chance of securing the business angel investment it is looking for, use the checklist below to prepare your business.
1: Do your homework
Not all business angels are the same. Try and find out as much about the business angel you want to approach. Ask yourself what kind of businesses they have invested in before? Do they have a particular market sector they like? What kind of business angel are they? Will they want to take an active part in your business, or more of sleeping partner approach?
2: Prepare your business plan
No business angel is going to make an investment without first seeing a detailed business plan. Your business plan should include details of not only the investment you are looking for, but also information about how your business is performing now, and is projected to perform in the future.
3: Develop your management team
All business angels are looking for well-run business they can invest in. They don't want to spend hours teaching the management team the basics of how to operate their enterprise. It is important to look at your management team objectively. Are there any weak points that you should strengthen before approaching a business angle?
4: What are you prepared to give up?
A business investment by an angle will not come without any strings attached. You should be crystal clear about what the business angle will take from your company either in cash, or other items such as intellectual property before you agree to take the working capital from them.
5: How much money do you need?
Business angels don't usually have a minimum or even a maximum they will invest in a business. However, amounts between £10,000 and £750,000 is common in the market today. More than £750,000 will usually require an investment by an equity company or venture capital business. Also, take a look at the Enterprise Capital Fund Scheme as some business angel investment is eligible to be matched by this grant, potentially giving your business access to more capital if it needed it.
6: Deal or no deal?
Before your business enters into a contract with a business angel it is vitally important that you understand every aspect of the agreement you are about to sign. Take expert help if you need to. Query in detail any aspects of the contract you have on the table. Your business may need the capital investment, but this shouldn't mean giving up more of your business than you are comfortable with.
You might also like...