Funding Options from Friends and Family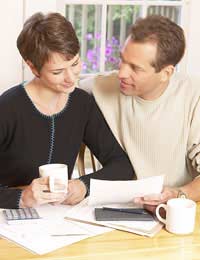 A very large percentage of businesses are started using funding options from friends and family. Although there are certain disadvantages to going down this route, it is a very popular option. Funding from friends and family can be a good way to inject some quick and flexible cash into your business, but guidelines for repayment should be set out from the start.
Funding From Friends And Family
Some people will find it easy to approach friends and family for investments in a new business, while others may not even consider this option. It's nice to have the choice, but there may be times when considering this option is the only route available. If business funding has been turned down by the more traditional methods then family and friends may be the only option. There are a number of advantages and disadvantages to this type of business financing and carefully consideration should be taken before any borrowing commences.
Advantages Of Financing From Family
There are a number of solid benefits to borrowing from family and friends as opposed to raising capital through financial institutions such as banks. These benefits will include:
Terms and conditions of the loan will usually be flexible
Interest rates on the loan will usually be low or non existent
There will not usually be the need for a detailed business plan
The returns expected on the investment may be lower than from professional investors
Unlike other investors, friends and family will not usually want a say in running the business
Family and friends will not usually ask for a guarantee on loans they provide
Loans and investments will help boost your confidence
Personal investments from family and friends will give an incentive to make the business a success
Disadvantages Of Family Loans
One of the main disadvantages of this type of loan is the fact that relationships can be jeopardised. Borrowers do need to be honest and completely open with regards to what is expected and the risks involved. If traditional borrowing methods have been unsuccessful then family and friends should be made aware of this fact. Family and friends should be made aware of the downside of lending, and they should not lend money that they cannot afford to lose.
Setting Loan Guidelines
If loans are forthcoming then formal agreements between both parties should be drawn up. These agreements should list a number of terms and conditions so that both parties are completely aware and in agreement over their expectations and obligations. The agreements should be set out in writing with a copy for both parties. Setting out the terms in writing will mean that there are no misunderstandings and the agreement can be used for future reference should any problems occur.
Formal Agreements
A formal agreement is a legally binding contract, and this will also be the case even if the agreement was made verbally. Terms and conditions should include repayment terms and the length of the loan period. Any interest expected on the loan should also be included and this could mean tax implications for both parties. There should also be an inclusion if loans given will mean any shares in the new business or any say in the running of the business.
Business Proposals
Unlike banks and other financial institutions family and friends may not require you to present a formal business plan. However, when borrowing it is a good idea to be able to present a detailed business plan with inclusions for any loans from friends and family. Anyone investing in your business will usually want to know how their money is to be used. Business proposals and legal agreements should always be drawn up after taking advice from professionals. Professionals will be able to give an input on aspects that you may not have considered and will be able to give advice on legal matters regarding borrowing from family and friends.
Funding from friends and family is an option that should be considered, especially when it comes to looking for initial funding for a new business. It is not an option that should be taken lightly and there are as many pitfalls to this investing option as benefits. However, if all parties are made aware of their expectations and obligations it is an option that can financially work out well for those involved.
You might also like...