Understanding Business Ratios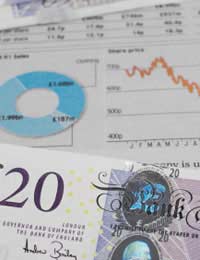 Managing your business profitably means keeping a close eye on every aspect of its financial health. Business monitoring can take many forms, but one of the most useful is to learn how to use a set of key business ratios.
A business ratio enables you to take a snapshot of various components of your business and instantly evaluate their financial health. The insight that a business ratio can give to your enterprise is invaluable. The most useful aspect of this type of business monitoring is that you can spot potential financial problems early and take action to avoid them entirely, or reduce their overall impact on your business finance.
There are a number of business ratios that you could use regularly to health check your business, but some of the most useful are listed below. All you need to do is generate the required figures for each equation from your balance sheet, profit and loss account, and your cash flow forecasts. If you don't currently have these systems in place, it is imperative that you do so immediately. Your accountant can help you set-up these systems if you are not confident doing this yourself. Once you have all the figures you need, using a business ratio quickly becomes second nature.
Break Even Point
As one of the most useful of all the business ratios you can use to improve your overall business management, in essence your break even point is simply the point where the costs of delivering your business's goods or services to a customer equal the amount of money you charge for those goods or services. The break even point is the level at which your enterprise doesn't make a profit, but it does cover all of its costs, thus not making a loss. Your break even point is calculated with the equation below:
Step 1: Gross Profit
Sales = £5,000
Variable Costs = - £2,000
Gross Profit = £3,000

Step 2: Gross Profit Percentage
Gross Profit ÷ Sales x 100

£3,000 ÷ £5,000 x 100

= 60%
Step 3: Breakeven Point
Fixed Costs ÷ Gross ProfitPercentage x 100

£3,000 ÷ 60 x 100
= £5,000 (Monthly sales break even point)
Gross Profit Margin
Every enterprise is in business to make a profit, but it's always important to know precisely how much profit your business is making. The profit or 'margin' can be expressed in a number of ways, but the most useful is to calculate how much profit your enterprise is making on every pound of turnover (sales) it makes. Remember that gross profit is turnover minus the cost of your sales. Your gross profit margin is therefore, expressed with equation below:
Gross Profit Margin =
Gross Profit ÷ Turnover x 100
As an example, your business could make a gross profit of £50,000. This is from sales of £125,000. Your gross profit margin, therefore, would be:
£50,000 ÷ £125,000 x 100

= 40%
In this example for every £1 that your business makes in sales (after costs are deducted) is 40p. You can see that you can use this business ratio to check if you gross profit margin is going up or down. If for instance you made more sales, but your costs remained the same, your gross profit margin would increase. However, if your costs increased and your sales reduced your gross profit margin would go down, making your business less profits.
Net Profit Margin
An ideal partner to the gross profit margin equation is the net profit margin equation. Your net profit margin equation is one of the most important as it calculates your businesses actual profit after all its costs (fixed and variable) are taken into consideration. If your businesses net profit ratio is declining now is to time to look closely at how you can cut costs. You net profit margin is expressed using the equation below:
Net Profit Margin =
Net Profit ÷ Turnover x 100
As an example, if your business makes a net profit of £35,000 from a turnover of £125,000, your net profit margin would be:
£35,000 ÷ £125,000 x 100

= 28%
It is important to remember that business ratios should not be calculated on an ad hoc basis. You should make your calculations at regular intervals (monthly is a good time span) to build up a clear financial picture of how your business is performing. With this data you can easily see where your business needs to improve to increase its profits and reduce its costs. Business finance is all about how much you know about the financial health of your enterprise. Closely tracking a number of key business ratios is a toolset that all business managers should develop.
You might also like...