Investing Your Money in Your Business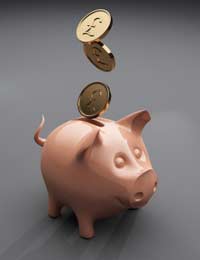 Investing your own money in your business is vital, especially if you are looking to raise capital from other sources. If you are not prepared to place some form of investment in your own business then you will not usually secure funding elsewhere. A personal investment is not always going to guarantee external funding but it will be seen as an act of commitment.
The Need For A Personal Investment
In most cases, new businesses will find it nearly impossible to find other investors unless they have committed some form of personal investment. This will also be true for those who try to borrow from financial institutions to finance their new business. If the person opening up a new business is not prepared to make their own investment then why should anyone else risk their money? Putting your own money into the business first is the right way to attract investors and show that you are willing to commit fully to the new business.
Finding Your Own Financial Contribution
There are a number of different ways that you can raise the money to invest in your own business. However, for each financial solution there are advantages and disadvantages. Solutions to raising finance to place into your business can include:
Obtaining a second mortgage
Using personal savings
Borrowing from members of family and friends
Raising finance through unsecured loans
Raising finance through credit cards
Selling personal assets and any investments such as stocks and shares
There are also non financial investment options that will come in the form of personal tools, equipment and other assets that can be utilised in the new business. Non financial investments should be valued and included in the business accounts.
Advantages To Self Financing
Self financing your own business does have one big plus in that you will have more control over your business. If the majority of money placed in a business is your own then you will not be placed under pressure from other investors. Other investors will want to see a return on their money and may set time limits on when this money is to be returned. Some investors may also want a percentage of the new business in terms of stocks and shares, and may want to have some say in how the business is conducted. Ultimately the investor can withdraw their financial support leaving the business under funded.
Borrowing Your Own Investment
Borrowing your own business investment may seem contradictory but it is a way to find funding for a new business. One of the most popular borrowing methods for new business owners is to remortgage their own homes. Remortgaging does have its own advantages and disadvantages. Some lenders will not consider this type of loan if it is used to set up a business, but there are always lenders that will consider it. The borrower may be able to release a fair amount of cash if there is enough equity available on the home. If interest rates are low then using this option may be a good way to raise the funds needed.
Secured And Unsecured Loans
Unsecured loans are another option to consider, and these are usually a better option than secured loans. The main issue to consider when borrowing using methods such as remortgaging and secured loans is the risk factor. In both of these cases you will be using your home as a guarantee, and this can be a big risk. You may have to co-sign the loan with a husband or wife if the property is in both names. These risks should be carefully considered; there is no guarantee that a business will succeed, and with secured loans and remortgages it can be more than just money that is lost.
Calculating The Risk
There is always a big risk when investing your own personal savings and selling your own investments to raise financing for your business. However, any risk can be weighed up against the opportunity to make your money work for you and earn more with a new business. If your own money is sitting in a bank making a small amount of interest per year then investing this money in your own business may be worth the risk. Your own business is an investment, and a measure of how confident you are of your business being viable will be shown by investing your own money.
Starting and building a new business is always a risky venture, especially when you are using your own money. In the business start-up world there is never any guarantees. This is why investors will always want to see detailed business plans and cash-flow forecasts. Taking advice from business professionals should be a prerequisite before risking any of your own finances in a new business.
You might also like...