Taking Control of Your Business Cash Flow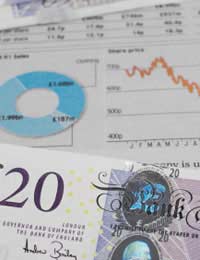 Taking control of your business cash flow should be a major consideration for any business. Cash flow is one of the most important issues for any new company, and spending as little as possible in the early days will be beneficial. Maintaining a good working relationship with your creditors will also help you to keep control over your finances.
Controlling Your Money
Taking control of your company finances can be achieved by taking the view of spending as little as possible and deferring as much as you can. You can achieve this by setting up long term credit repayments from trade suppliers once sales begin. Another way to make sure that the flow of money into your company is kept steady is to ask for part payments upfront from any clients. Simple ways to control the money coming in to your company will include:
Making sure that clients and customers are aware of your invoice payment terms
Shopping around to gain the longest credit periods you can from suppliers
Limiting the amount of stock that you hold
Consider funding options such as external investors
Use services such as debt factoring if you meet the eligibility requirements
Follow up on all invoices when they are due to be paid
Set credit limits for your customers
Invest in book keeping software that will help you to keep efficient accounts
Avoiding Charges
One important way to minimise extra expenditure is to avoid any charges or fees on loans and other lines of credit. Charges and fees can soon mount up if they are not kept in check, and this is basically wasted money. Continual missed or late payments will also give your company a bad reputation with creditors and a possible bad credit record. The ultimate outcome to missed and late payments is an instant demand for payment and the line of credit being withdrawn. Make sure all payments are made on time and that credit facilities are not abused.
Keep Stock Levels Low
Avoid keeping too much stock by planning ahead as carefully as possible. Using software that tracks your customer's buying habits will help when it comes to knowing how much stock to hold. Overstocking is bad management and will tie up capital. Investigate the possibility of obtaining stock on an as needed basis from suppliers; this can be achieved by collaborating with suppliers.
Always Shop Around
Many businesses will simply go to their own bank branch when it comes to funding but there may be other options available. Banks may not always give the best credit options possible, which means money lost on high interest rates. Using the internet as a comparison tool will enable you to find the most competitive interest terms on loans and overdrafts. Low interest rates are available through a variety of lenders but you may miss out by not researching all of the possibilities.
Leasing Your Assets
Leasing is a way to obtain the assets you need at a lower cost than purchasing outright. There are two ways to look at leasing; you don't own the assets so can't use them as security but payments are lower and you are not left with outdated equipment. Another low cost payment option is hire purchase; you can spread out the cost and you will own the asset when all the payments have been made.
Most businesses will use a mix of outright purchase for smaller assets and leasing for the bigger assets. This is a good way to control capital, and fixed payments can be easily placed into cash flow forecasts.
Money Only Transactions
The old saying of cash is king may be something to bear in mind. Although most businesses will have to operate with some form of credit there are always benefits to money-only trading. Cash transactions can be applied to those customers who have bad credit records; customer credit records should always be checked to avoid credit problems. Using a mix of money and credit payments will have benefits to your company's cash flow and is essential for most small businesses.
Controlling the flow of money in and out of a company is a continual process. Money may be king but credit is usually a vital business tool. Implementing efficient invoicing and accounts software will be an investment that pays off. Always shop around for the best interest rates and repayment terms and avoid letting charges spiral out of control.
You might also like...