How to Negotiate with Business Creditors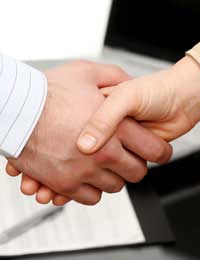 Knowing how to negotiate with creditors is an essential part of any business. Most businesses would not be able to exist without credit from suppliers or financiers. Lines of credit are commonplace from suppliers for a certain amount of time, but if no credit is available then there may be options for discounts instead.
Why The Need Credit
Credit is an essential requirement for most businesses. This could take the form of an overdraft from a bank or a line of credit from trade suppliers or services. Credit can take the form of money in the form of loans from banks, such as unsecured or secured loans, or simply some form of business credit card. The credit can be used for short-term capital or over a longer period from trade suppliers. Cash-flow forecasts will be almost impossible to calculate unless you know that credit is available to your business and how much this credit will be.
Obtaining Credit Services
There are a number of different stipulations that will be applicable when you apply for any form of credit. Some lenders will ask for guarantees in the form of security and some will be more lax with their lending requirements. If you are a well established business with a good track record then obtaining a line of credit from suppliers or applying for a business loan should not be too much of a problem.
Start-Up Businesses And Credit
Gaining credit will be easier for some than it is for others. If you are a start-up with no experience then gaining credit may be difficult but not impossible. Start-ups may receive credit but it can depend on the business owner's circumstances. Circumstance that will aid credit will be good business contacts in your chosen field and some form of security. The credit market is competitive, and just because one supplier will not give credit does not mean that all suppliers will refuse.
Obtaining A Business Reference
One way to help ensure you can obtain credit from suppliers is to obtain a reference from your own bank. You will need to check with your own bank as to their own stipulations regarding references. References from a bank will be an extremely useful tool when negotiating with trade creditors and can make all the difference in the terms they offer you. If a bank has provided your initial funding, and you have a good record, then it should not be too hard to obtain a reference.
Adhere To The Terms And Conditions
No matter what type of credit you obtain it is very important that you stick to the terms and conditions laid out in the contract. If a creditor gives you three months to pay then pay within this three month time limit. If you are a consistent bad payer then the consequences are that the line of credit will be stopped, all outstanding debts will be demanded, and interest fees will be charged. Late payment penalties can also be applied and these can soon mount up. Suppliers can be lenient but do not take advantage of the creditors that are partially funding your business.
Trade Discounts
Many services suppliers will not under any circumstance supply a line of credit. However, you can sometimes negotiate good discounts if you are going to use their services or products frequently. If you contact a supplier with the intention of using their services or products then always ask for an appointment with one of the sales staff. Getting to know the salespeople is the best way to form a good working relationship. Sales people will also work on commission so it is in their best interest to make that sale, and this is where negotiating can bring discounts.
Bad Debt And Creditors
Negotiating with creditors will also need to happen if you are having trouble making payments. If this situation does occur then you should try to renegotiate your credit terms, either by reducing payments for a period of time or extending the credit length. Try to make it clear to creditors why it is in their best interests to restructure the credit terms. If this is just a temporary cash flow problem then make creditors aware of this. The restructuring plan must be credible enough that creditors have confidence they will eventually receive their money.
Credit is an essential component of any business, and credit facilities should be treated with respect and never abused. Having a fairly good credit record is vital to enable borrowing from financiers and trades suppliers. Maintaining a good line of credit will help you stay afloat during the bad times as well as the good.
You might also like...