Employees are Business Assets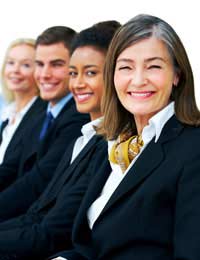 Although it is true to say that employees are business assets, the wise employer knows that employees are probably their greatest assets. Workers have to be figured into business plans, strategies and of course cash-flow forecasts. But as with any other business asset, there are times when an asset can become a liability.
The Benefits Of Good Employees
Good employees can boost productivity and profits, build a company's reputation, and can change a struggling company into a successful one. There is no shortage of talented and hardworking employees but it can take a lot of time and effort to find the right people for your company. Employers spend a lot of money on recruitment, training, pensions, etc, but employee expenditure can be more than justified if employees are dedicated, hard working assets to the company. Perfect employees are rare, but taking the time to find the right employee should bring its own rewards to your business.
Employee Costing
If your company is going to employ people then this costing must be figured into any plan when looking for funding. Employee costs should also be figured into cash flow forecasts for around the next two to three years. You will need to remember that there is not just an initial outlay for recruitment, there are many ongoing costs to be considered, which will be multiplied by the number of workers. Employee costs can include:
Salaries
Initial and ongoing training
Paid holidays, sick pay, maternity pay and other benefits such as profit sharing
Equipment costs for each employee
Time and money spent on taxes, National Insurance, payroll, employment regulations and laws
Viewing Workers As Assets
A small start-up may not have to be too initially worried about employee issues but if the company grows then staffing might need to be considered. Not having the appropriate number of workers can mean turning down work from valuable clients who may then look elsewhere. Of course workers do take a percentage of the profits but this may be offset by the extra productivity and extra work that can be taken on. Plus, if your company is becoming successful and your services are in demand then it may be time to start thinking about raising your prices.
Growth of Your Business
Good employees who are contributing substantially to profit growth will need to be rewarded. This can take the form of pay rises, profit sharing and additional perks and benefits. This will all come from company profits and should be thought of as asset maintenance. Happy staff will do their best for the company they work for. Higher productivity means more profits means more profit-sharing. Successful businesses know that unhappy workers will lead to a high staff turnover, and a high turnover will cost companies money.
Losing an Employee
A high employee turnover can be incredibly draining to a business, especially if the employee was making the company a profit. It costs money to replace and to train new employees and it can usually be many months before the new employee is up to speed. There is also the case of low morale when someone does hand in their notice and leaves a company.
There is often also the case of the domino effect; when one employee leaves a company a number of other employees may start looking at their employment options. It is always more cost effective to retain workers than recruit new ones, even if this means giving in to some staff demands.
Temporary Workers
Taking on temporary workers may seem like an ideal option to staffing problems, but think of the cost. You will usually be paying more for a temp through a recruitment agency than actually finding your own employees.
Temps can be viewed the same way as short-term leasing of assets; if the employee isn't working out you can always request a different employee. However, there are a lot of rules that apply to temps if you want them to become permanent, and fees can be involved; as much as £2000. Think very carefully about recruiting temporary staff and work out all of the costs before deciding if this is the right option.
There is no doubt that if you run a busy, successful company that is continually growing you will need to consider staffing issues. As business assets, employees can help with growth, increased productivity, new ideas, and a good reputation within a local community. Good employers will never underestimate the importance of their workforce towards helping a business reach its full potential
You might also like...