Using a Business Consultant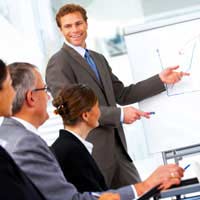 Using a business consultant can turn a struggling company into a successful one. Consultants can be employed to boost performance and profits, and give impartial advice on the running of a company. Whatever type of company you run there will be consultants that can give advice on issues such as marketing, planning and strategy issues.
Why Employ A Business Consultant?
Using a business consultant can have definite advantages for your company. Consultants are able to identify problems that can occur within a company and recommend strategies and changes that should solve the problems. They can also advise on how to achieve maximum growth for the future and give training sessions to management and staff. Consultants are specialists at spotting problems within businesses that may not be apparent to the current management.
Consultancy Areas
No matter what type of company you run or which industry you are based in there will be a range of consultants to choose from. Consultants deal with a variety of issues and they will usually specialise in an industry sector in which they have a background. Consultants can give advice on design, strategies, organisational development, marketing, project management and manufacturing. Other areas of expertise will include human resources management, financial planning and quality management.
Checking Credentials
Always make sure you choose the right business consultant for your particular requirements. Check if they hold any qualifications or are a member of any professional bodies. Ask about previous clients and if they can supply references for them. Find out what sort of services they offer including follow up sessions. Also ask if they have had experience in dealing with your particular type of company. Good consultants will be able to answer all of your questions and supply references if needed.
Consultancy Methods
There are two main consulting techniques used to help solve problems and provide solutions. Expertise consulting will be used to find immediate answers to existing problems. For instance consultants may train staff on aspects of marketing or sales if this area is not proving productive. Process consulting is where consultants teach managers the required skills to find solutions to problems. There will be meetings where the managers can talk through their problems and learn relevant business skills.
The Final Report
You will of course want to know you are getting value for money from any external advisor. Set out a budgeted amount that can be spent and find out the reason if you do go over the agreed amount. Obtain detailed progress reports for the length of the project including an estimated timeline for results. Make sure that consultants are aware of the objectives and goals you wish to achieve, and that they have the experience to deal with them effectively. Always make staff aware of the ongoing processes and inform them why a consultant is being used in the workplace.
Implementing Solutions
When you do receive the final analysis make sure that you fully understand the recommendations that have been made. Are the consultant's recommendations a credible solution to your problems? Will the solutions be easy to implement within your company? If any of the findings are unclear then schedule another meeting to go over the report in more detail. The consultant may have already scheduled in another future appointment to find out if the recommendations have had the desired effect. Reputable consultants will never leave their clients unhappy if they value their own reputation.
Consultants can make a real difference to the running of a company. Some companies will only bring in consultants when the company's future looks bleak. But consultants can breathe new life into any company and their methods can make a significant difference to productivity and profits. Enterprise agencies will be able to recommend the right consultants for your company and a discounted fee may be available.
You might also like...