How to Find a Venture Capitalist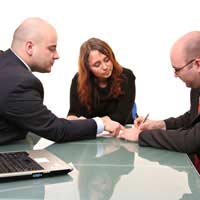 Knowing how to find a venture capitalist could be the first step towards gaining the funding you require. There are a number of companies that are designed to bridge the gap between businesses looking for funding and private investors. First of all you will need to decide whether or not your company wishes to take the risk that comes with this type of financing.
What Is A Venture Capitalist?
Venture capitalists are private investors who provide financing for established or new businesses. Around half of the time these investors will provide loans for established profit making companies that are looking to expand. However, investors will consider new companies that have a strong business idea or even companies that are struggling to find financing. Loans supplied by investors can be used in a variety of ways including start-up and expansion capital.
How Venture Capitalists Invest
In the majority of cases loans will be provided in return for shares in a company. The investors can be brought in at any stage of the business life cycle. The money that is to be invested will come from a variety of different sources through the one investor or an investment firm. Funds can also come through banks or from other sources such as pension funds and investments.
Terms And Conditions
Of course there will be many stipulations that go along with an investment of this size. Venture capitalists will, in return for the investment, acquire shares in a company. Most investors of this type will work on a preference shares basis. Preference shares will have a higher status than any other shares or repayments that the company offers.
The investor will have stipulations regarding the income they expect, dividends and the repayment of the loan. The investment is a type of business financing and the investment period will usually be between five and ten years, although this time period can vary.
The Investor's Return
Venture capitalists sometimes receive an unfair amount of flack regarding the ways in which they make their return on their investments. The common image is of an investor that comes in and sells off assets and companies outright. However, investors will have a considerable risk and they will want to protect this investment as best they can. A 30% return on their investment is normal, although this figure can be higher. The return that they receive will be based on the risk to their investment; the higher the risk, the higher the return.
Repayment Methods
There are few staple ways that investors will redeem their loan. These will include selling the shares they have received back to the company or they may sell on their shares to another investor or investment firm.
The outright sale of the whole company may also occur or the value of the stocks may rise with appreciation. This type of investment route can be risky but at present around fifty billion pounds has been invested in UK companies from venture capitalists. Many well known British companies would not exist if it were not for this injection of capital.
Other Benefits For Businesses
Apart from an injection of capital there are other benefits to this type of investment route. Investors will not only be able to provide cash they will be able to give expert business advice. This advice, together with business contacts can be a winning combination for any ailing company. Although giving away part of the company can seem like a risky option to take, it may be the only option open to struggling companies.
Finding An Investor
If you are considering this type of investment then the first place to look will be the internet. There are many companies that can help bring together investors and businesses looking funding. The British Private Equity and Venture Capital Association (BVCA) has been established for 25 years and should be the first port of call for any business. One of their main objectives is to promote this type of investment opportunity for both investors and entrepreneurs. More information can be found on the BVCA website.
A quick search on the internet will bring up a number of companies that operate in a similar manner to the BVCA. Always thoroughly research any investment company and always take advice from government enterprise agencies if you are considering this funding route.
You might also like...